I remember the year 2007 when Apple unveiled the first iPhone. It was a sensation and Zagg sold Invisible Shield in record numbers, several millions. It was a first to use such nano-technology made virtually indestructible material for mobile devices, well in such thin factor of 0.2mm!
Since then, iPhone has developed into today's iPhone 4S form and Zagg too. They have developed the best protective scratch-free skin for iPhone a lot. They have even added self healing features for Invisible Shield. Now, Zagg offers 5 different protection variants which starts from simple front/back protection to maximum device coverage.
Let's review each option with their pros and cons.
(You can directly visit Zagg.com product page for detailed features by clicking here)
Case friendly protection
This is useful if you want to protect only the front screen and also put the phone into a case. As you know, cases take some space around the mobile phones. So, this option uses only the needed part of the front screen.
Click here to buy ($14.99)
Maximum Coverage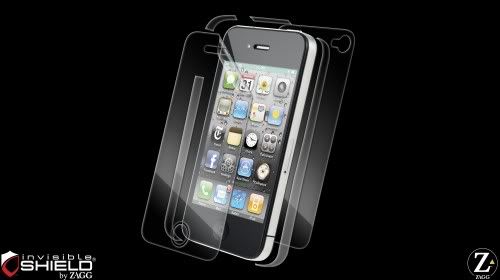 This provides the best protection for new iPhone 4S because it also covers the edges and sides of the phone including antenna and all frame. But, good things sometimes have undesirable effects too. It is harder to install than other options. If you believe you will follow the instructions and be careful, this is the best option to buy.
Click here to buy ($24.99)
Full Coverage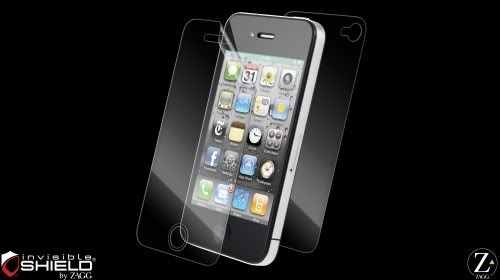 Similar to previous one but it will only cover front and back. So, sides are ignored in this version. Easy to install with minimum care.
Click here to buy ($24.99)
Front or Back Coverage
You can choose either front or back coverage for iPhone 4S as well. We still don't think it is a good option to invest. iPhone 4S is not scratch free even though it uses Gorilla glass. Covering only one part will leave you open to scratches.
Click here to buy ($14.99)